Party Season has arrived!
Xmas bookings Open
Welcome to Asiana Restaurant
Party season has arrived…
Invite your friends, family and colleagues for an indulgent get together for the coldest season & let your festivities begin. Xmas bookings are now open & we look forward to celebrating the festive season with you.
Come try our menu filled with mouthwatering delicious dishes just perfect for you & your party
Book ahead to avoid disappointment
Since the start of the pandemic, our number one priority has been the safety of our team members and customers. As we gradually return to normal, we want to make sure you continue to feel safe when visiting us. Our team will continue to follow enhanced hygiene and safety processes, and our hand sanitiser stations will remain in place.
Customers and team members will no longer be required to wear a face covering or leave contact details for NHS contact tracing services, and more tables will be available for use.
While face coverings and two-metre social distancing will no longer be mandatory, we know that for many customers these practices continue to provide comfort when they are in public places. We therefore ask for your continued support for those who choose to wear a face covering, or who would like some additional space to let us know.
We look forward to seeing you soon.
Delivering for you safely
We're focused on ensuring delivery is safe at all times during our opening hours
Contact-free delivery
We've launched mandatory contact-free delivery so our driver will leave your order at your door & step away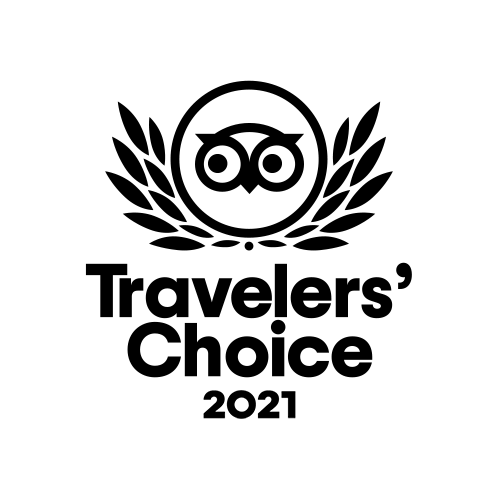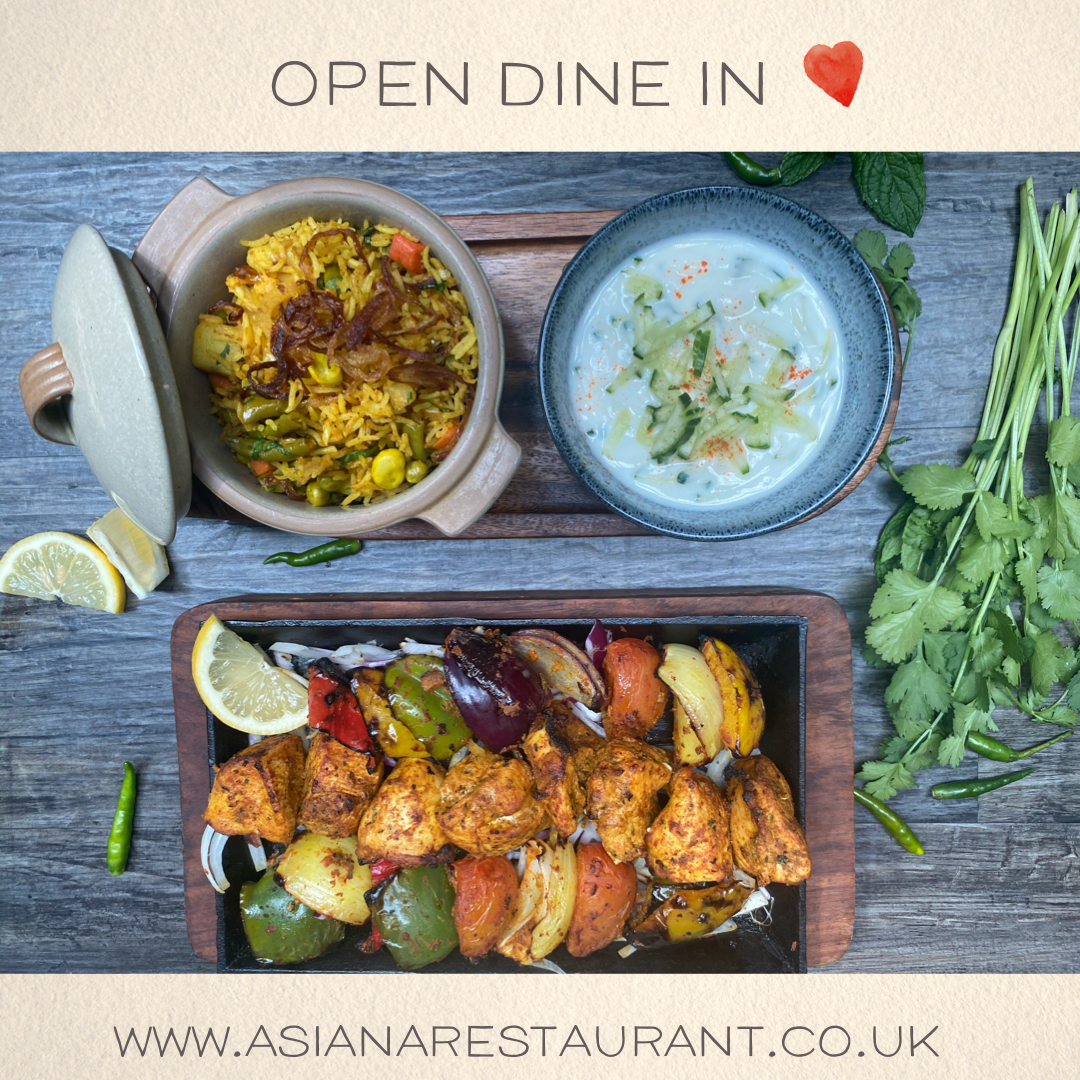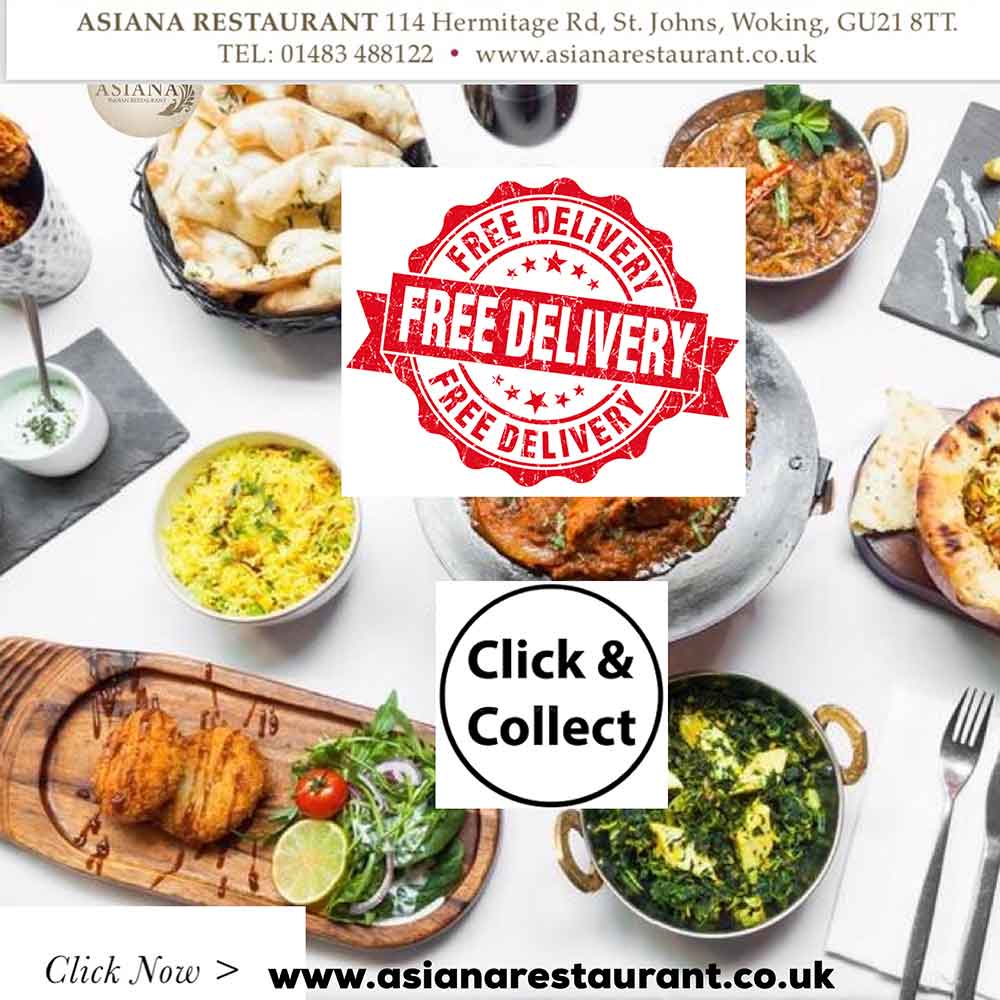 New Opening Hours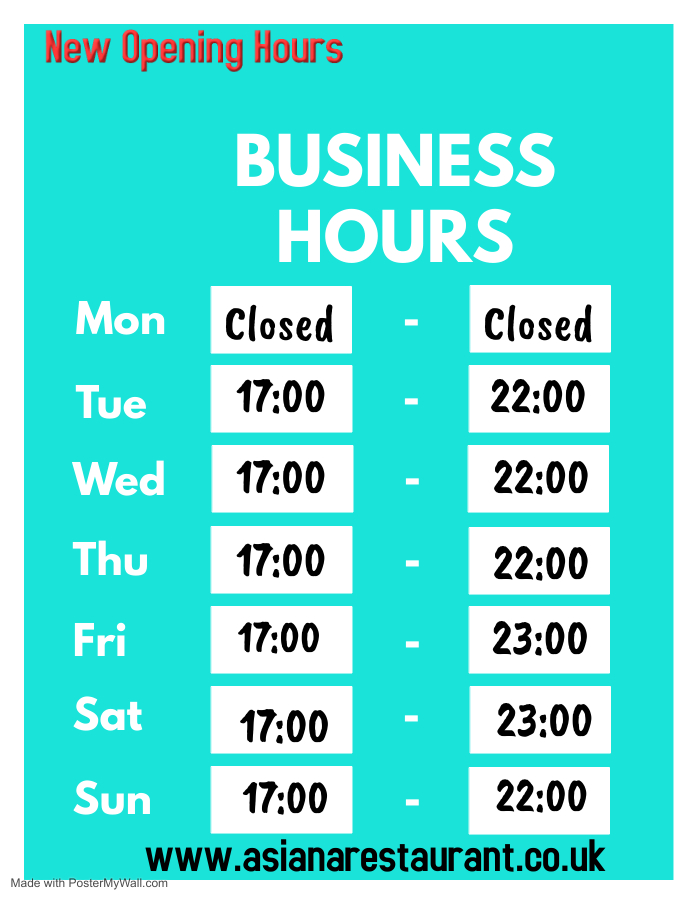 This is the season for giving. We have available gift vouchers to any value for Dine IN Takeaway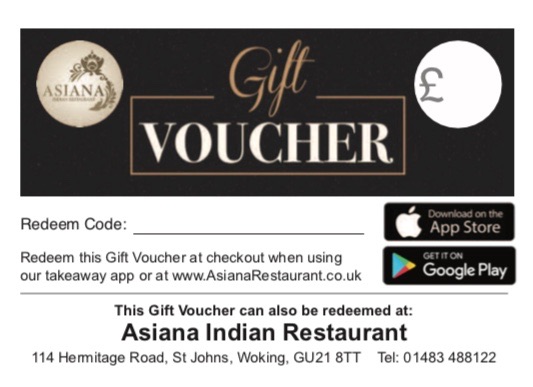 Download the free Asiana APP
Collect loyalty points on every order!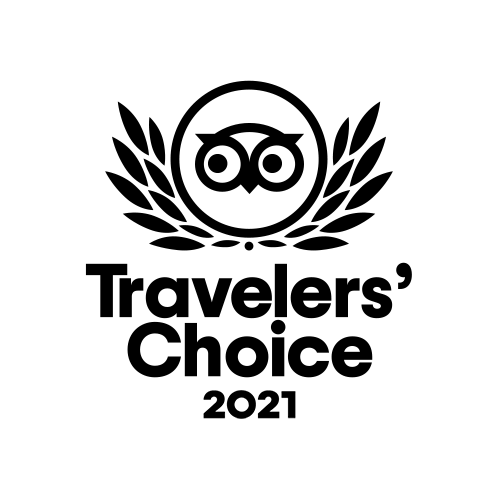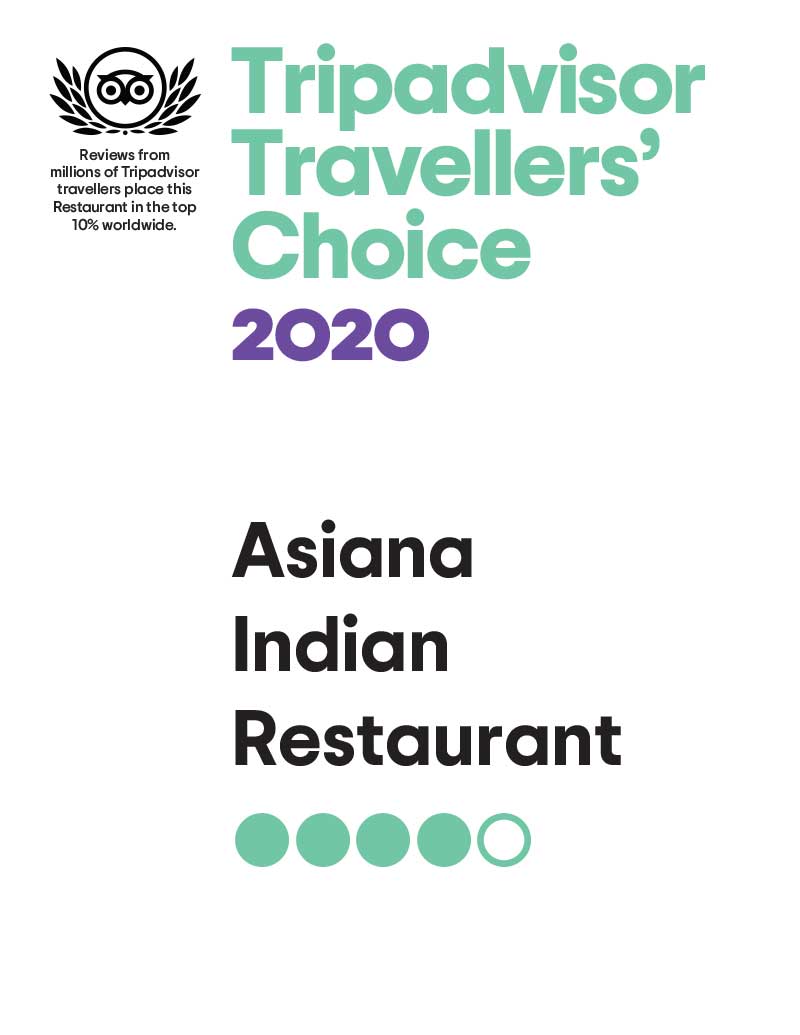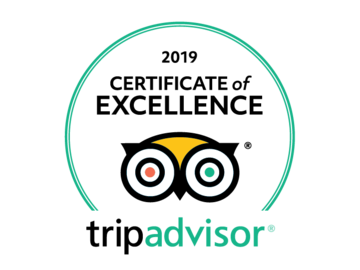 By far the best in the area
Absolutely delicious, have ordered from nearly every Indian in this area. And this is by far the best. Plenty of flavour in the sauces, chicken was succulent. You could tell it was fresh. I even requested tomatoes in madras and got them. Compliments to the chef and we will definitely be ordering again. Oh and it arrived half hour early. Thank you
Luke, Woking
6th June 2020
My favourtie Indian restaurant in the area and I've tried most of them!
Mike, Woking
21st March 2020
Dined last night for my partners birthday. Restaurant very well set out, staff masked & very careful, the food was sublime, it really couldn't be faulted. 5 stars easily
Suzy Jackson
We came to Asiana as a family of 5, for a last-minute midweek meal. From the minute I booked, we were well looked after.
The communication was great, with updates as to when our table was ready. The staff were incredibly friendly, chatty and approachable and made our 3 young children welcome and feel included.
The wait time for drinks and starter didnt feel lengthy and the same flow occurred waiting for our main meal.
The food was well presented and tasted delicious. We all cleared our plates and my daughter said it was the best meal she had ever tasted!!
The restaurant was incredibly clean and well maintained throughout our visit.

I would highly recommend Asiana to everyone :-)
theduffs123
13th August 2020
Have loved curry for many years over 3 continents. Booked a table at Asiana and found it a lovely place. All was going well until I tasted the aloo gobi, I was stunned - the flavours were incredible. I had the railway dish For main and have to give the chef 10 out of 10. Highly recommended and I will definitely be back as soon as possible. All the staff were great. Thank you.
Michael D
The Lamb "Railway Curry" took me straight back to memories of my 15 trips to India. Paratha & perfect rice were a super accompaniment. Authentic food!
Mike Sweeting
Always great takeaway food, good portions and prompt delivery. Can't wait to be able to dine in
W Watson
Over ten years ago I used to live locally to this fantastic restaurant and always used their home delivery service. Now out of the area I make a point to stop by whenever I can for collection. It is the best Indian restaurant around. Onion Bhajis are superb. Very happy to say that the very high standards have been maintained.
Highly recommended
Gerard McSharry
Asiana has always been a solid choice for Indian food for my wife and I. This impromptu visit outshone all the others. I ordered a spicy chicken shashlik and some veg side dishes, absolutely fantastic! Highly recommended
Antony T